Conveyor Belt feeders are short belt conveyors specially designed to regulate material flow, pulling material from a single area and allowing subsequent equipment to receive the appropriate volume.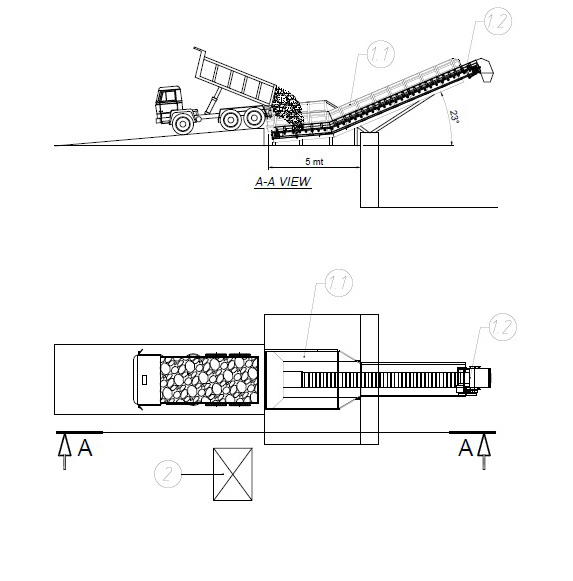 These short conveyors are used to remove material under discharge hoppers or material hoppers and move material to the next equipment for processing or further transport. Therefore, the Conveyor belt feeder design must take into account all the special requirements determined by the capacity and geometry as well as the material being conveyed.
Depending on worksite and/or customer-specific requirements, we can pre-assemble machines at our dedicated manufacturing facility and ship them to the worksitesite in large pieces.
The FABO apron feeder is recommended for applications where the material to be conveyed is grainy, abrasive, heavy, high temperature or where a more robust feeding solution than a belt feeder is required.
| | | | |
| --- | --- | --- | --- |
| FEEDER CONVEYOR | (BB-1400X12000) (1 PIECE) | MOTOR | 2×22 KW GEARBOX MOTOR (SPEED CONTROL) |
| WIDTH | 1.400 mm | RUBBER BELT | 5 LAYERS 15MM EP – 160 QUALITY (SERGEANT CONVEYOR BELT) |
| LENGTH | 12.000 mm | VIBRATING DRIVE DRUM | Ø320 x1460x14 mm |
| TAPER BUSHING | 12mm RUBBER COVERED | BEARINGS | TNH SERIES BEARINGS |
| CONVEYOR SNUB/TENSIONDRUM | 320x1460x14 mm (CONE LOCKED – DEMOUNTABLE SHAFT) (CONE LOCKED – DEMOUNTABLE SHAFT-TAPER BUSHING) | CARRYING ROLLER | Ø 133 x 330 mm WELDED COVER |
| RETURN ROLLERS | Ø133 x 1460 mm WELDED COVER | CHUTE BOX | ADJUSTABLE ROCK AND BOLTED BOX |